Inspiration
As I was browsing through my Pinterest inspirational board, I came across this beautiful leather jacket. It has a beautifully hand painted B-24 Liberator, an American flag crest and the kills. It also has a title on the top, but it's barely visible.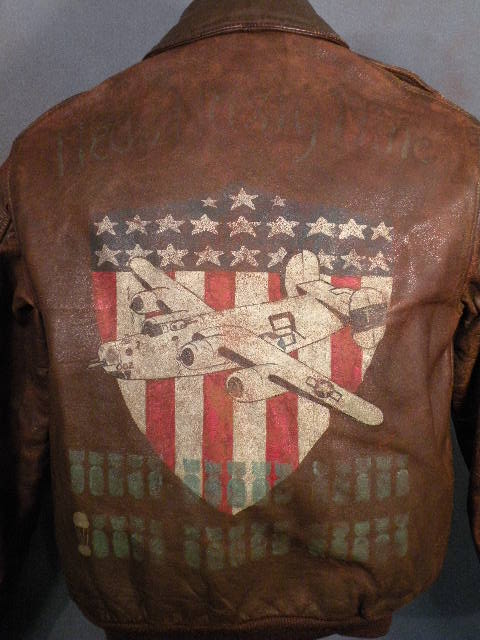 Work Process
First, I started to search for a usable picture of a B-24. I sometimes use some images from books, my 3D library or pictures that are free to use. The great thing about vintage military aircrafts, most pictures are public domain and it's really helpful! However, when things get complicated with certain airplanes, I ask the owner of the picture for their permission. I can guarantee you, that they will say yes! So don't be shy to ask!
I cleaned up the image for Adobe Illustrator and vectorized it like so:
For this B24 Liberator, I choose the Jolly Roger, because they simply kick ass! I love their logo! It's simple, scary and effective! This is the "Tokio Express" B-24 Liberator.
Second, I added the US shield in the back :
It looks a little better! However, the plane and the shield seem to be interacting too much with each other. But I left the correction for the end. When I work I want to see the full piece first, to later add or remove the things that I like. (Of course this a highly summarized post)
Third, I added the bombs and rays of light in the back:
It sure looks better now! But the star of my piece is the B-24! So I had to add some discrete clouds behind the bomber like so:
It already looks better to the eye! Last, I added information about the plane and squadron:
Voila! It looks complete! But this is only a sketch to me! Now, it's time to texturize and make this piece look the 88th Co. way!
I first started to ink the shield and rays with more water to make it look lighter. Again, the star of the piece is the B-24, so all the focus has to be on her. Second, I did the rest in a darker shade of ink and got a beautiful vintage finish. I've also made some variant to the design:
I'm thinking about making a t-shirt out of this design and other things too. Once I release a new item on my store, I will make sure to make a post about it! But, if you're interest in purchasing any other items I designed, please feel free to visit my Etsy store.
Sonia