This Vintage USMC T-Shirt is a long time coming project. I always wanted to put my own twist on a classic design. In this post, I will describe my work process to create a custom t-shirt from scratch.
Choosing the Right Cotton for the Vintage USMC T-Shirt.
First, I did some research on what cotton quality was used in the 1940's. Of course, it is very hard to get the same exact quality, but I noticed that the cotton was a little transparent. So, I went and picked up lightweight tees from my friend who, gracefully, let me buy in small quantities. (But if you're interested in buying blank tees, I would advise you to check this website.) But really, what's a lightweight tee? Well, the answer is easy, it's lighter, it has less cotton and is little transparent compared to the heavyweight tee.
The cotton weight for the USMC t-shirt is 150 g. Even if the shirt is light, the cotton will last a long time.
Naturally Dyeing A Blank t-shirt.
In contrast to the USAAF t-shirt, I only used coffee to dye the t-shirts. I only wanted them to look a little bit used, with a great faded beige color. In order to dye a shirt with coffee, I would like to share my own recipe:
Pour water and the amount of coffee you would like in a large pot (the amount of coffee will decide how dark the shirt will be. If you want it light, use less coffee. If you want it darker, use more.)
When it reached boiling point, add 3 table spoons of salt. The salt helps the dye stick on the shirt for a long time. (Turn off the stove, please! We are not cooking t-shirts here)
Wash your blank t-shirts with hot water
Finally, put your wet t-shirts in the pot and let it dye for a few long hours. (You can use an old wooden spoon to make sure that the t-shirt stays in bottom).The more it seats in the coffee, the darker it gets. I sometimes, let it in the pot for just two hours. It depends on the hue that you're looking for.
Once, you liked the color, take out the t-shirts and hand wash them with hypoallergenic detergent. Its PH 7 is great on dyes, it will help them last longer.
Hang your t-shirt to dry!
When fully dry, iron the t-shirt for printing.
The USMC Design
I looked at old USMC logos and I loved their details. But I had to design a simpler version for a practical stencil. Making stencils is never an easy task, because I have to think about the paper, the cutter machine, line thickness and the white space.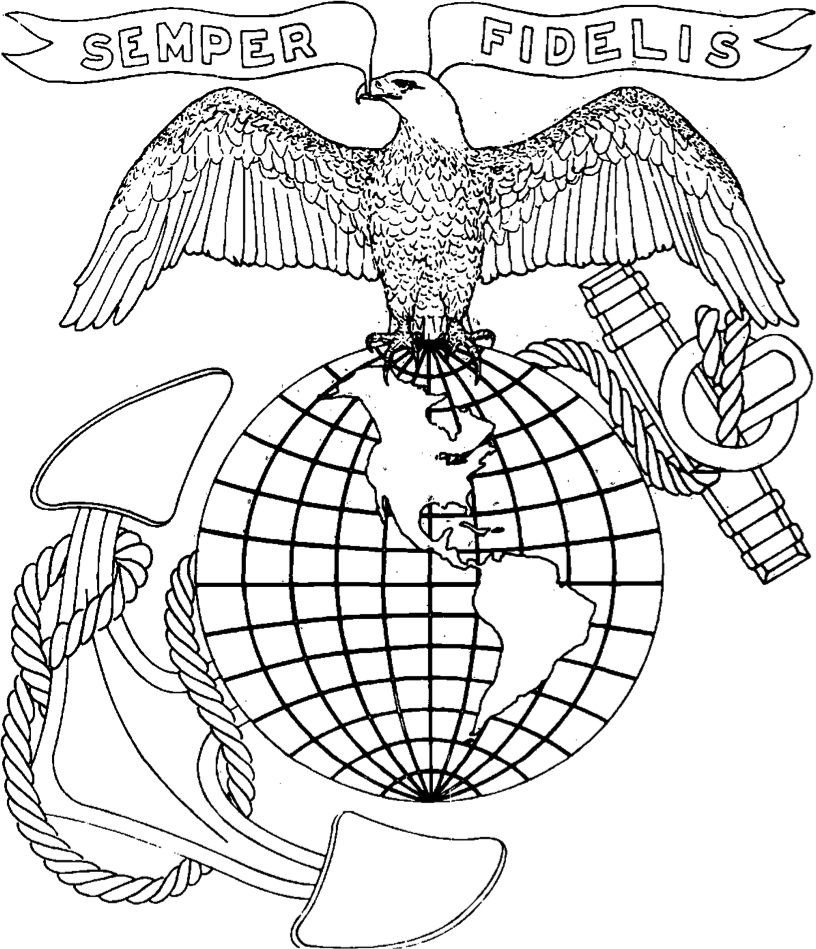 I jumped on illustrator and worked on the stencil for long few hours. I always do one cut test to see if there are any mistakes. The most complicated part is to make sure that the line of the stencil are thick enough to hold when I paint. With any stencil, the more details, the more complicated it gets.
Once, testing was done, I cut my stencil with my Silhouette Cameo 3. (Yes, I did add the B-25 sticker on it…I couldn't help myself! I do customize almost everything!)
Now, I'm ready to paint. But first, I use some mounting glue by spraying the back of the stencil and placed it on the middle of the t-shirt. (Make sure you spray the mounting glue outside. It has a horrible smell! But if you have a gas mask handy, why not?) Once, I verified that the design was correctly centered, I started to paint.
TIP: always make sure that the design is well centered. I always get my cutter to cut two rectangles on top and bottom of the design as landmarks. They help me keep the design parallel and centered to the collar.
Painting the UMSC T-Shirt
Paint is an extremely important medium for any artist! But each one of us out there, have a different view on which is the best brand to use.
Since the first day I have founded 88th Co., I have used Speedball screen printing paint. It's my favorite, because I can mix it with water and it gives the fade I am looking for.
For painting, I don't use any brush. I use a pastel brush, because its shape helps me apply an even amount of paint on the t-shirt.
Finishing Touches
Done with painting! I love the result, don't you? I always use little bits of water, white or black paint in some area of the stencil to give it a more rugged look.
Inner Label
Now, it's time to print the inner label of the t-shirt. I always write something simple, like they used to during WW2:
The military section
The manufacturer or brand name
Military Contract code
Finally, I add the military section on the bottom inner hem of the t-shirt.
To print the labels, I use stamps and Speedball screen printing paint.
USMC Tags
For all my t-shirts, I pay a very close attention to details. So, it's only natural to customize the tags too. And why not? I do customize everything anyway! Plus, I truly think that it would be a shame to stick a simple little tag to such a beautiful tee.
Let's get painting!
First, I painted in blue an A4 watercolor page.
Second, I prepared my tags on adobe illustrator and printed the blue watercolor page. (The tags include washing instructions and the t-shirt number)
TIP: It's always best to use the printer to convey information to your customers. They must clear and easy to follow. But if you're like my uncle and can literally write like a printer, then why not?
What's left? Cutting the tags and hang them to each t-shirt!
If you're interested in buying this unique USMC t-shirt, please visit my online shop or my Etsy store. Finally, if you do have any questions, please feel free to contact me anytime or leave a comment!